Your Dog's Joint Pain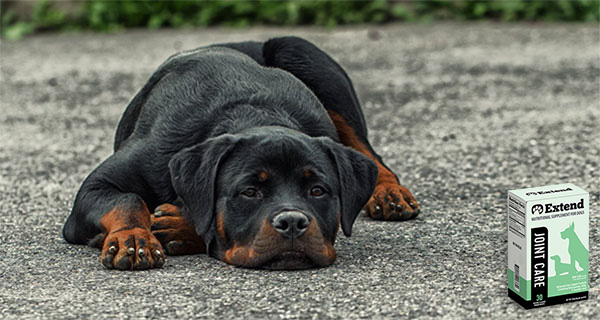 Joint pain in your dog can come from multiple sources. We will touch on a few potential reasons, with a strong urge to consult with your veterinarian and get an accurate diagnosis of what is causing your dog's pain.
LOSS OF JOINT CARTILAGE
Life of a dog, no matter how active, can take its toll on their joints, especially hips, shoulders, elbows, knees, and back. The world's healthiest dog is still not immune to the effects of time. And over time, the body breaks down, especially in the joints.
Cartilage, the soft, rubbery tissue protecting joints where bones connect, does not have the ability to heal itself and replace healthy cells like skin and muscle. As a dog ages, cells in cartilage begin to die off, which causes a thinning of the protection between bones, and increases joint inflammation.
Osteoarthritis occurs when the cartilage wears down to the point bones become exposed. It is a progressive condition that will worsen over time. Medication is the most common treatment for this condition, followed by the less-common surgical procedure.
DYSPLASIA AND OTHER DEVELOPMENTAL DISORDERS
Hip and Elbow Dysplasia can cause immense pain in a joint. These disorders usually occur when the structure of a joint, or the musculature surrounding, is flawed. This flawed structure can cause the bones themselves to change shape, called subfluxation. A few dog breeds are prone to this developmental disorder:
German Shepherd
Rottweiler
Golden Retriever
Saint Bernard
Labrador Retriever
Great Dane
INJURIES TO BONES, LIGAMENTS, AND TENDONS
Bone injuries can cause damage to joints in two specific ways. First, a bone fracture can occur in the joint itself, causing direct damage and risks of improper healing, worsening a joint's health. Second, even if a fracture occurred far from a joint, it could cause imbalances in the bone and joint structure, as fractures never heal without changes to the original shape. These imbalances cause undue stress on a joint as the dog's body tries to compensate for the changes.
Tendon and ligament injuries, like a torn ACL or PCL, can be painful, though temporary injuries to dogs. Most ligament injuries can return to near 100% funcionality if they heal properly, usually requiring long periods of inactivity.
OTHER CAUSES OF JOINT PAIN
Hormone conditions, cancer, lyme disease, and spinal diseases can each contribute indirectly to joint pain in dogs. These conditions are rare, so we won't go into detail. But we recommend you talk to you veterenarian if you have questions or concerns. Together you can decide whether or not it would be worth testing for these diseases, even if to simply rule them out as causes.
TAKE STEPS TO EASE JOINT PAIN
No matter the cause of your dog's joint pain, simple steps can be taken to ease their pain. Along with recommending Extend Joint Care for Dogs, we suggest the following steps that have shown to ease the pain:
Regular checkups with your vet
Keep your dog at a healthy weight
Controlled, appropriate exercise for their age and condition
Keep them warm and dry
Massage
Soften up your home with rugs, carpet, pillows, and a heated bed.