Extend Joint Care for Dogs - Ingredients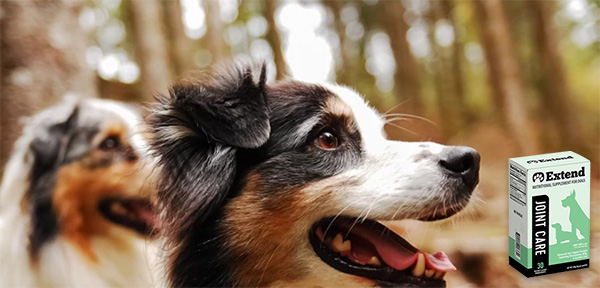 Ingredients matter. Extend Joint Care for Dogs combines four active ingredients in a single non-prescription dietary supplement designed to improve and maintain joint health in dogs. Our unique blend consists of Glucosamine HCL, MSM (Methyl Sulfonyl Methane) Type II Chicken Collagen, and Ascorbic Acid. Each ingredient plays a vital role in supporting hip and joint health, specifically for older dogs. This product was formulated to be one of the safest and most effective nutritional supplements on the market.
GLUCOSAMINE HCL
Glucosamine HCL (Hydrochloride) is a compound naturally found within the cartilage of a dog's joints, acting to lubricate the joint and as a shock absorber, allowing your dog to move around with less pain. Rich in anti-aging and anti-inflammatory properties, it aids in treating common symptoms of arthritis and other joint disorders. Numerous studies have shown Glucosamine HCL to effectively improve mobility, range of motion, and overal joint health in dogs.
Every dog's body needs glucosamine for synthesis of certain proteins and lipids that form vital tissues like cartilage. It also helps form and retain fluids for better lubrication of a dog's joints. In addition, Glucosamine HCL has shown to to boost the immune system and maintain a healthy digestive tract.
Glucosamine HCL has shown little to no side effects or risks, even after years of extended use.
MSM (METHYLSUFONYLMETHANE)
MSM (Methylsufonylmethane), often dubbed a "miracle supplement for dogs," has been shown to lower inflammation, the effects of stress and pain, boost immunity, and increase overall energy levels. MSM, an organic sulfur-containing compound that naturally occurs in some green vegetables and other food products, works to lower inflammation and help restore healthy bodily tissue.
The secret to MSM's effectiveness lies in its biologically active sulfur, which is needed for many different critical bodily functions every single day. Not only does it help with inflammation and pain, but it has also shown to restore collagen production, a vital component of healthy joints and tissue. Sulfur is required in our cells to release many byproducts and excess fluids that can accumulate and cause swelling and pain.
MSM has also shown to reduce fatigue after stressful events, improve energy levels, and normalize digestion.
TYPE II CHICKEN COLLAGEN
Type II Chicken Collagen has been clinically proven to increase joint comfort in dogs and decrease factors that negatively impact a dog's mobility and flexibility, like hopping up on the couch. As a natural source of chondroitin and hyaluronic acid, it helps keep cartilage healthy by retaining fluid in connective tissue, providing lubrication, and helping the body produce new cartilage.
It has shown to retrain the immune system to correctly recognize exposed cartilage proteins as the body's own tissue, instead of seeing them as foreign invaders. This reduces inflammatory attacks that cause painful destruction of tissue.
As an immunity booster, Type II Chicken Collagen has been shown to heal gut lining and support gut integrity, directly improving a dog's immune system. It does this by helping heal certain cells in the intestines that control whether to increase or decrease a dog's immunological response, as well as reduce proinflammatory cytokine production.
DELICIOUS BEEF LIVER
Your dog will gobble up our delicious formula with real, flavorful beef liver.
Quality You Can Trust